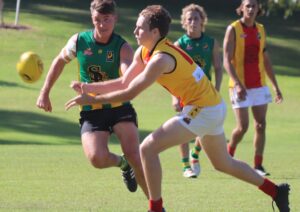 The department of youth at North Beach has been operating for a couple of seasons but opportunities in recent weeks have opened up even further.
The club has stood firmly by its policy of developing young talent within the area and then giving them opportunities to play at the highest level of community football.
The latest example is that of exciting young defender Matt Raynor will make is O'Rourke Realty A-Grade debut against Kingsley at Kingsley Park tomorrow.
Raynor joins a list of players like Ben Johnson, Austin Sheard, Liam Catalfamo, Jordan Brooks and Matt Murray who have been given opportunities at senior level on the back of some outstanding form with the unbeaten Lifenet A-Reserves.
With the exception of Catalfamo, who had played senior football last year, all have made their debut this year and Johnson has also earned a recall this week – on the back of a six-goal performance against the Sea Eagles in the reserves last Saturday.
It is an exciting time for the club with those accomplished youngsters keen to be a part of the next successful era for the Tigers.
They will also have key roles to play against Kingsley as the club looks to rebound from successive losses against University and Scarborough.
The clubs two colts teams continue to grow and develop under John Burton and Joel Gray, with both pushing for the all-important top three and a double chance when the finals begin. There is an abundance of players in the colts system who will help drive the club in the near future.
While the A-Grade teams will play at Kingsley, there will be six games at Charles Riley Reserve, including the Hybrid Linings D1-Grade who will feature as the main event – with North Beach legend Bill Duckworth returning as caretaker coach against Wanneroo.
The Galleria Toyota A-Grade women face the biggest challenge available in their competition when they confront the undefeated University at McGillivray Oval.
Fixtures, July 20
O'Rourke Realty A-Grade
Kingsley v North Beach, Kingsley Park, 2.30pm
Lifenet A-Reserves
Kingsley v North Beach, Kingsley Park, 12.35pm
Plasterwise Phil Scott Colts
Kingsley v North Beach, Kingsley Park, 10.40am
Hybrid Linings D1-Grade
North Beach v Wanneroo, Charles Riley Reserve, 2.30pm
Coast to Coast Imports D1-Reserves
North Beach v Wanneroo, Charles Riley Reserve, 12.35pm
Indi Bar Brett Jones Colts
North Beach v Cockburn Lakes, Charles Riley Reserve, 10.40am
Beyond Tools E1-Grade
North Beach v Coolbellup, Charles Riley Reserve (2), 2.30pm
GJ Osplumb E3-Grade
North Beach v Piara Waters, Charles Riley Reserve (2), 12.35pm
Galleria Toyota A-Grade Women
University v North Beach, McGillivray Oval, 9.30am
Grange Residential I-Grade
North Beach v Fremantle CBC Gold, Charles Riley Reserve (2), 11am